Related Links about Disability and College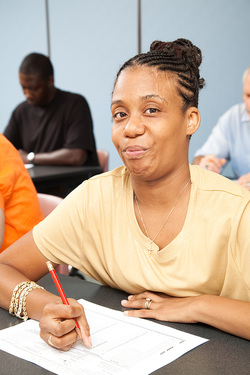 The links below are just a few selected resources related to disability and higher education. Project staff will continually update this list. Click on the title of any resource, and you will be redirected there.
African-American Women who Stutter Project
at the
Clara Cantrell Clemmons Assistance Center, Inc.
Based in New York and founded by an African American woman who stutters,
the group held a 2012 "Having Our Voices Heard" conference for African-Americans who stutter.
American College Personnel Association (ACPA)
ACPA is a professional organization for anyone in student affairs and higher education, with a goal of fostering college student learning. It has standing committees on disability and on multicultural affairs.
American Educational Research Association (AERA)
A national research society focused on education at all levels, including the use of research to improve education and serve the public good. Standing committees include the Committee on Scholars of Color in Education and a Social Justice Action Committee. Special interest groups (SIGs) include the Disability Studies in Education SIG (which holds an annual conference), and numerous SIGs related to multiculturalism, race, and ethnicity.
Association on Higher Education And Disability (AHEAD)
The professional organization for disability services providers and anyone in higher education interested in disability services or college students with disabilities. Has a standing committee and special interest group focused on diversity issues.
Civil Rights Data Collection
Access and equity data from 72,000 public schools in the United States, including data on students in special education.
For examples of available data or how this data may be used, see
TASH's press release on seclusion and restraint
among students with disabilities, especially African American students.
Epilepsy and the African American Community
Resources and information for African Americans, from the Epilepsy Foundation, including one issue of the organization's magazine that focused on African Americans.
NAOBI: National Alliance of Black Interpreters, Inc.
National organization for sign language interpreters from the African diaspora.
National Black Deaf Advocates
Advocacy organization for Black and African American deaf and hard-of-hearing people, with 30 chapters across the United States
National Longitudinal Transition Study-2
(NLTS-2)
The NLTS research followed a large group of students with disabilities. Free reports include statistics about how students of color are faring in school and up to three years after graduation from high school.
PACER Center
Based on the idea of parents helping parents, the PACER Center (
P
arent
A
dvocacy
C
oalition for
E
ducational
R
ights) provides information to children and young adults with disabilities and their families. The website has numerous resources related to transition from high school, including transition planning as part of the special education process, including
a list of transition-related links
.
Postsecondary Education Programs Network (PEPNet)
National organization providing information and technical assistance for issues related to college students who are deaf or hard-of-hearing. Website includes free online trainings for students and higher education professionals.
Society for Disability Studies
(SDS)
The academic organization for scholars in the field of disability studies.
Taishoff Center for Inclusive Higher Education
A national organization promoting programs and research related to all college students with disabilities, including those with intellectual disabilities. The Taishoff Center also holds a biannual Disabled and Proud national conference for undergraduates.
Think College
Doors to colleges are opening for people with intellectual and other developmental disabilities in many different ways all over the country. Think College shares information and resources about this movement.
---